Monetising Renewable Energy Ancillary Services: A Solution to Grid Constraints
An Inaccess White Paper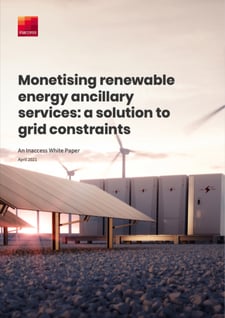 How can you improve the profitability of your assets by monetising ancillary services?
This is a key issue for European asset owners as grid constraints lead to a requirement of enhanced plant control and legacy revenues from support schemes are replaced by more volatile revenuestreams.
To understand this opportunity, download our exclusive free white paper and discover:
How European grid operators are responding to electricity network limitations.
The keys for turning grid constraints into a future-proof solution for your assets.
Ancillary services you can deliver now and the outlook for the future.